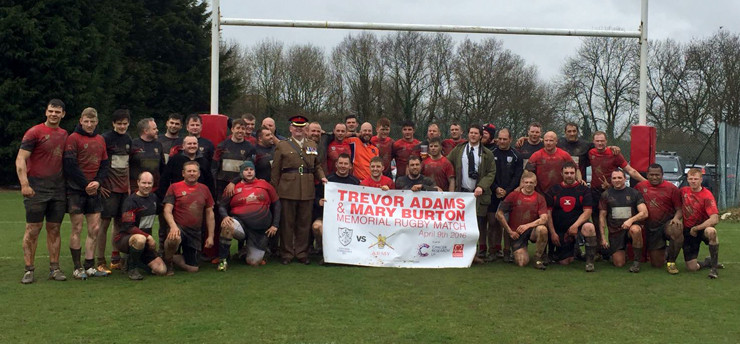 On April 9th Ashford Barbarians RFC hosted a side from the British Army in the Trevor Adams & Mary Burton Memorial Rugby Match in aid of Cancer Research UK and the British Heart Foundation.
The event raised almost £4000 and included Children's Entertainment & Face Painting, Live Music from Joe Green's Blues Explosion, Raffle & Auction,  BBQ & Bar and the signing of the Armed Forces Covenant.
It maybe over but if you'd like to donate to either cause you can do so via our JustGiving links below or text 70070 using TAMM94 for The British Heart Foundation (Trevor Adams) or MBMM49 for Cancer Research UK (Mary Burton). Thank you in advance for any contribution you can make and we hope to see you there.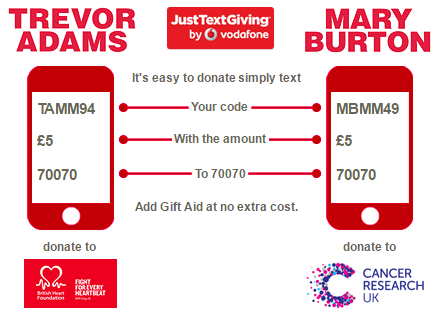 Visit the Memorial Match Facebook page to leave a comment. You can also show your interest by signing up to the event or add the hash tag #ABRFCmemorialmatch to a tweet to show your support.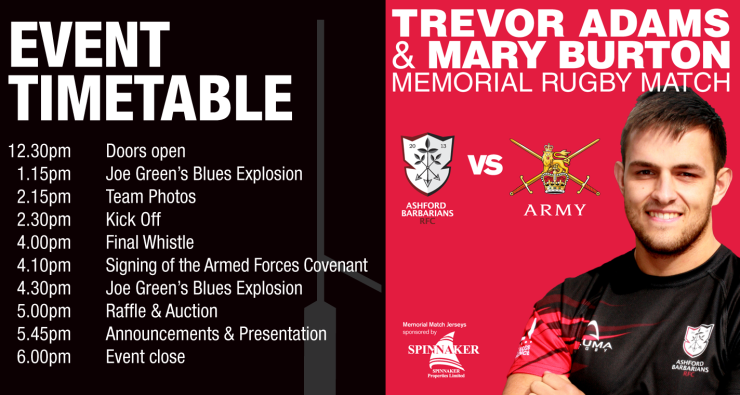 Trevor Adams
Trevor always loved sports as a boy and unbeknownst to many actually went on to play football semi-professionally in his late teens, albeit for not very long and self admittedly through hard work as oppose to talent! It wasn't until Trevor's sons Matt, Joe and much latterly, Louis started at secondary school that rugby became a real passion for him. Years of proudly watching his boys play for school and town saw him pick up the bug – enough for a 15 minute cameo at an Ashford Rugby Club fathers and sons match. The national call up never came…
Trevor's involvement in rugby was mainly on committee level; attempting to raise money and prospects for local rugby before going on the help set up the Ashford Barbarians in 2013. The vision of Trevor and his co-founders was for members to play 'for the love of the game' instead of getting bogged down with inter-team bureaucracy and the agendas of those seen to be more senior in the clubs hierarchy. Anyone who knew Trevor would know he would have loved to see what the club he helped build has become where he will be fondly remembered on April 9th.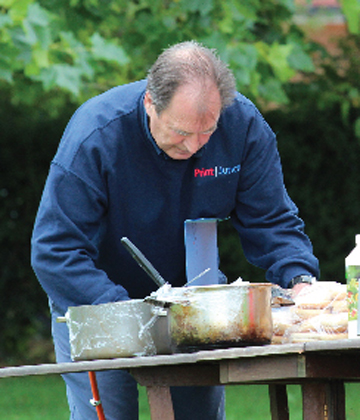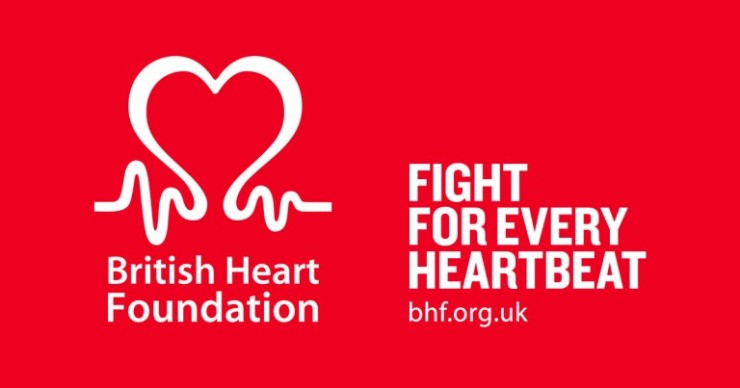 If you'd like give something in memory of
Trevor Adams visit our JustGiving page.

Mary Burton (1959-2014)
As well as devoted wife and mother Mary also loved exercise and lived a healthy life. In October 2010 while on holiday in North America Mary experienced the first symptoms of her condition. On her return blood tests revealed that her kidneys were only working at 20 % and shortly afterwards she was diagnosed with Multiple Myeloma – unusual for a young fit woman.
Mary began 6 months of treatment involving steroids, chemo tablets and radiated blood transfusions which was followed by the good news that blood levels and kidney function were back to optimum. However after a year in the clear the Myeloma had returned and treatment began again this time using previously harvested stem cells. Mary and husband Steve enjoyed another Christmas together with things looking positive, but by February 2014 devastating news.
An experimental drugs trial was a possible option and after informed discussions Mary unselfishly said "if it helps research and helps others in the future I am going for it!"
Mary got to see her oldest son Philip marry – which she did in style!
As the year wore on Mary's conditioned worsened but despite this she was determined to continue her mother's 34 years of Poppy coordination in Woodchurch Village. Soon after the hospice nurse thought Mary only had a few days left. Mary fell asleep for the last time in the loving arms of her husband Steve after losing her battle with cancer at 12 noon, 28th October 2014, surrounded by her family and friends.
Mary said "do what you want to do when you want to do it as life is too short!"
This is the reason for me to support Cancer Research. I hope the findings from the trials will help others in a conclusion to this terrible cancer and make it a thing of the past! – Steve Burton
You can read more about Mary Burton's life and battle in her husband Steve's unabridged story.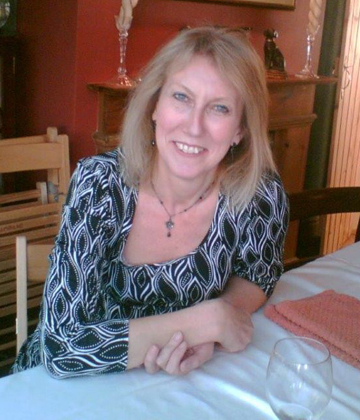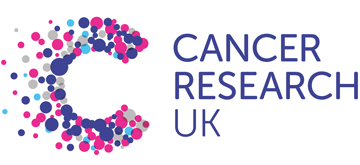 If you'd like give something in memory of
Mary Burton visit our JustGiving page.

Visit the websites of Cancer Research UK and the British Heart Foundation to find out more on the extraordinary work they are doing and the people they're helping.
The Armed Forces Covenant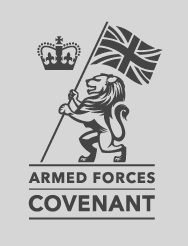 Ashford Barbarians RFC are delighted to announce our official pledge of support for the Armed Forces Community; becoming the first grassroots Rugby Football Union club to sign the Armed Forces Covenant.
Ashford Barbarians RFC on behalf of its 56 member clubs will sign the covenant April 9th, first signed within professional rugby union by Premiership club Gloucester Rugby in 2014. This signing is ahead of Saracens Rugby signing the AFC at Wembley on Saturday 16th April 2016, highlighting the links between community and national rugby and their joint support of this initiative.
"It is our responsibility that we actively invite and welcome the Armed Forces community to our Club. We promise to uphold the covenant and to strengthen our relationship with the Armed Forces Community wherever possible, building on the affiliation that the club already has; including members of the club having serving family members and supporting a player who was injured on operations, still representing the club when his service allows."
– ABRFC President Christopher Rabjohns
The Armed Forces Covenant is an enduring covenant between the people of the United Kingdom, Her Majesty's Government and all those who serve or have served in the Armed Forces of the Crown.
Ashford Barbarians RFC commits to supporting the Armed Forces Community. The Club pledges to recognise the role of service personnel both retired and serving, veterans, their families and the Reserve Forces and Cadets contribution to our local community and our country.
Local MP Damian Green unfortunately was unable to attend but sent this message of support "I am very sorry I cannot join you for the Memorial match…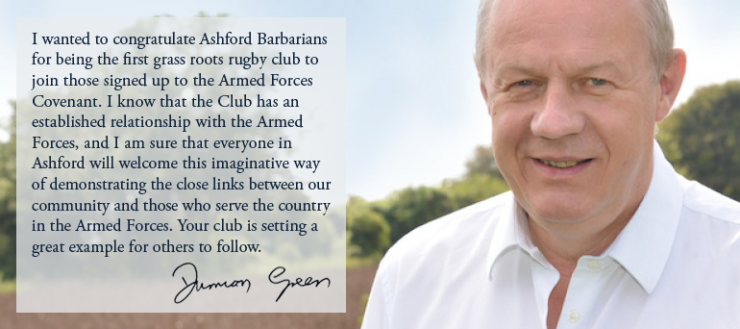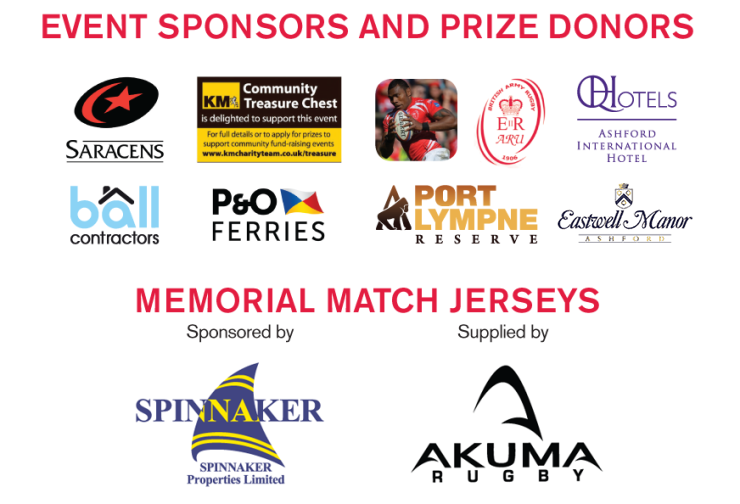 Rugby Union and the British Armed Forces
The Army Rugby Union (ARU) was formed in 1906 and has continued for over a hundred years to provide an infrastructure for the playing of rugby union within the British Army. Its aim is to promote and foster the game of Rugby Union within the Army and its local communities in accordance with the Laws of the Game promulgated by the Rugby Football Union (RFU).