Folkestone III
7
0
ABRFC I
5th March 2.30PM
New Burlington Ground
League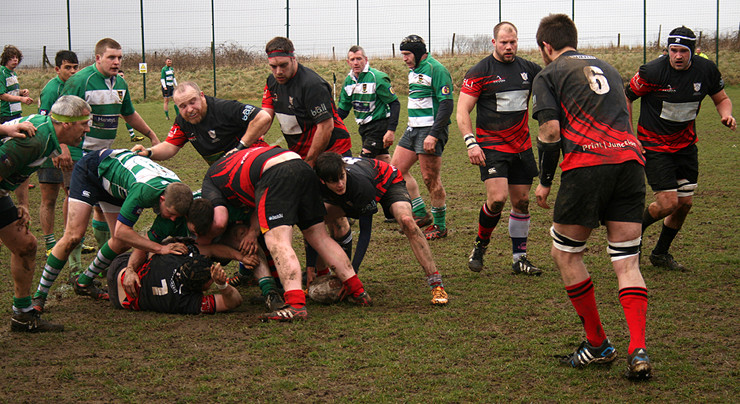 Photo and gallery courtesy of Paul Wright

Folkestone RFC III XV: 7
Tries: J.Shorter  Con: A.Pritchard
Ashford Barbarians: 0
Barbarians stunned by Stones
The Barbarians journeyed away to face 10th place Folkestone hoping to solidify a place in the top three of the Dragon Fire 4 East League.
With the conditions bitterly cold and wet handling proved troublesome, with neither side really finding any rhythm.
After dominating the Stone's in their previous encounter the home side appeared to be the more aggressive in offence and the Baa-Baas defensive line weathered a barrage of early attacks.
Unable to find any respite the Barbarians finally succumbed as Folkestone found some flow in the back line. A well-executed dummy run created the opening that allowed Centre Jack Shorter to cross the whitewash for the only try of the match. Fly-half Alex Pritchard easily converting.
As a tactic both teams intelligently used the conditions to their advantage, making comfortable territorial gains due to the strong swirling wind that was causing havoc for those tasked with taking the high ball.
"The Turley brothers made Barbarian history being the first brothers to appear on the wing together. Neither could catch" – M.Turley.
Second Row Joe Adams gave some hope for the Baa-Baas, his powerful running puncturing the Stone's defence. But for the Baa-Baas opportunities seemed to go begging – the final ball always eluding the visitors.
Replacements: Steve Biggs on at Full-back for Chris Weatherley and Leon Pilkiewicz moved into the centres.
Second half
Replacements: Jason Drewett on for Joe Adams at Second Row, Guy Booker on for Dave Ian at Number 8.
As the home side maintained the attacking momentum the Baa-Baas found themselves defending in their own 22 for extended periods on time. However, valiant and exhaustive defence by the Barbarians managed to deny the Stones' any reward from their goal line assault.
A resolute defence was almost embarrassed after a charged down clearance kick. Centre Andrew 'Taff' Morris was the quickest to react, beating the Folkestone winger in a foot race and grounding the ball first.
The Baa-Baas were close to profiting from a few key attacks; Morris's incising run almost producing an equalising score. Folkestone quick to the breakdown and with numbers nullified the threat.
Andy May's break drew in multiple defenders and Captain Ben King looked a certainty for the corner before a Sonny Bill-esque offload from Second Row was intercepted.
In a fortnights time the Barbarians travel away to take on Snowdown.
Man of the Match: Ben Gauntlett
Ashford Barbarians: B.King(c), M.Ball, B.Gauntlett, J.Adams, W.Cleave, A.May, C.Rabjohns, D.Ian, S.Dale, J.Potter, N.Turley, C.Weatherley, A.Morris, N.Turley, Leon Pilkiewicz.
Replacements: Steve Biggs, Guy Booker, Jason Drewett, Paul Wright (not used due to injury).
Sin Bin: n/a