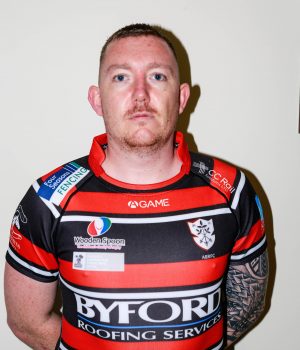 Fixtures Secretary | Treasurer
Joined Ashford Barbarians RFC: 2013
Previous Clubs:
Ashford RFC
Sponsored By:
Sponsorship For This Player Available
Club Bio.
One of the founders of Ashford Barbarians RFC back in 2012 after a conversation with Matthew Ball & Joshua Adams in a pub, with the club then forming in January 2013.
Has been predominantly a Fly Half for the majority of his playing days, but can play anywhere from 9 to 15. He is also the clubs first choice place kicker.
Club Awards.
2019-2020 Clubman
2018-2019 Top Try Scorer
2018-2019 Clubman
2016-2017 Clubman
2016-2017 Dick
Club Honours.
2019-2020 Kent 5 East Winners
2016 Ashford Rugby Club Beer Festival (Ashford RFC Prodigals 12 vs 26 Ashford Barbarians RFC)
2015 Ashford Rugby Club Beer Festival Tournament Winners